The sky is the limit
Thanks to our experience and innovative strength we are able to realise almost any kind of textile transfer: Metallic-luminescent or reflective designs generated with special effect foils or pigments, various procedure and material combinations, rhinestone ornaments and many other variations. Get in touch with us today and let your imagination be your inspiration!
Overview of the Custom Solutions processes
3D Transfer
Outstanding in every way
Incomparably accurate in every detail, impressively versatile, fascinatingly three-dimensional: The revolutionary process sets a new standard for transfers, badges and emblems. The flexible, soft feel and low weight guarantee optimal wearing comfort; high durability and colour fastness ensure lasting appeal; numerous variants and special effects provide endless design and application possibilities – from fashion to sportswear, from uniform badges to shoes, from bags to interior textiles.
Effect Transfer
Comprehensive possibilities with impressive results
Numerous special procedures, e. g. for reflective or phosphorescent designs, metallic and indifference effects
or glittering optics with studs or rhinestones in various colours, forms and/or designs
Manufactured with laser-cut effect transfer foils or as transfer prints with special pigment inks
Robust, long-lasting and wear-resistant, with various haptics depending on effect
Depending on procedure washable at up to 30 / 60 °C
Suitable for fashion, sports, leisure, work and protective wear of almost any material
Procedure and Material Combinations
Unlimited options for ideas and creativity
Infinite possibilities for each transfer type
Combinations of various procedures and materials
Embroidery of flock, flex and direct printing designs
Textile appliques made of various fabrics, hemmed with embroidered seams or flex outlines
Refinement of embroidery, flex and flock designs with rhinestones
Suitable for fashion, leisure and sportswear of almost any material
Our textile fini­shing processes
Added value for textiles and clothing
Sports shirts, fashion products, promo or work wear: there are numerous uses for contemporary textile transfers. At BIESS, we offer you the full spectrum of services, including Flex and Flock transfers, direct printing and industrial embroidery, as well as the revolutionary 3D Transfer, to optimally implement your ideas. Our innovative technology, quality materials and consistent service ensure superior results: quickly, reliably and efficiently, regardless of the order volume.
Textile finishing without solvents:
Good for you. Good for the planet.
We're fully aware of our responsibility toward society and the environment, and have drawn our own conclusions – which is why we use only water-based inks in our production processes, with no solvents or other contaminants.
To document our efforts we are certified on an annual basis – according to the OEKO-TEX® STANDARD 100, a uniform and independent worldwide testing and certification system for textile raw, intermediate and end products of all kinds. Every year our production standard is confirmed and certified as being contaminant-free, which makes our processes suitable even for baby clothing. We're very proud of that.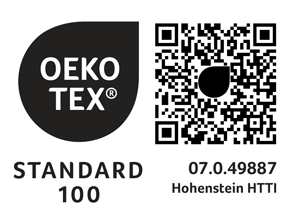 Our flex and flock transfer processes are certified according to OEKO-TEX® STANDARD 100, also all embroidery yarns from our suppliers.
All sample products shown here are exclusive customizations, not for sale without permission from the copyright holder. Some examples are symbol displays and were not produced in-house.