Textile finishing without solvents
Good for you. Good for the planet.
We're fully aware of our responsibility toward society and the environment, and have drawn our own conclusions – which is why we use only water-based inks in our production processes, with no solvents or other contaminants.
To document our efforts we are certified on an annual basis – according to the OEKO-TEX® STANDARD 100, a uniform and independent worldwide testing and certification system for textile raw, intermediate and end products of all kinds. Every year our production standard is confirmed and certified as being contaminant-free, which makes our processes suitable even for baby clothing. We're very proud of that.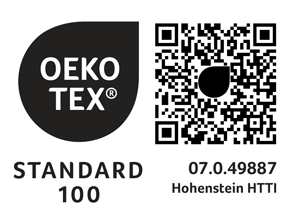 Our flex and flock transfer processes are certified according to OEKO-TEX® STANDARD 100, also all embroidery yarns from our suppliers.
Our textile finishing processes
All sample products shown here are exclusive customizations, not for sale without permission from the copyright holder. Some examples are symbol displays and were not produced in-house.