BIESS Textil-Applikationen
We offer 30 years of experience, securing our guarantee of top quality and reliability.
Branding and customization by professionals for professionals.
Sports equipment, fashion, work clothing and customized event wear: There's no limit to the range and versatility of modern textile applications. Whatever you're looking for, we offer you one-stop solutions – including all available technologies, great service and optimal results, always.
We're your ideal partner when it comes to transfer printing, direct printing and embroidery – thanks to our innovative technologies, eco-friendly techniques, safe materials and consistent customer orientation we can guarantee perfect outcomes: Fast, reliable, efficient and top quality – even in large-scale productions of any batch size.
Get more out of clothing and textile accessories – and ask for our help! We'll be happy to advise you and promise to find the right solution, one that fully meets your needs – for any purpose, any goal.
Company
Founded in Munich in 1990 by Ingo Biess, the company has focused on textile applications since day one – at first primarily in rhinestone and sequin transfer for the stocking industry – a focus still evident today in our rhinestone logo.
Soon we widened our scope to include numerous new direct and transfer printing systems as well as industrial embroidery. The adaptation of innovative technologies and their integration into smooth processes for optimal results has always been the company's biggest strength.
Since our move to Oberhaching near Munich in April 2008, the company has occupied generous modern premises, covering 2,400 m2 that house cutting-edge process technology as well as a well-attuned team of experienced staff, ready to tackle the challenges of the future!
Our Clients
Renowned names, whose high demands we see as a challenge
Adidas • BMW • Chiemsee • Erima • FC Bayern München • Jack Wolfskin • Mey
Puma • Red Bull Salzburg • Sanetta • TSV 1860 München • 1. FC Nürnberg
and many more ...
Textile finishing without solvents:
Good for you. Good for the planet.
We're fully aware of our responsibility toward society and the environment, and have drawn our own conclusions – which is why we use only water-based inks in our production processes, with no solvents or other contaminants.
To document our efforts we are certified on an annual basis – according to the OEKO-TEX® STANDARD 100, a uniform and independent worldwide testing and certification system for textile raw, intermediate and end products of all kinds. Every year our production standard is confirmed and certified as being contaminant-free, which makes our processes suitable even for baby clothing. We're very proud of that.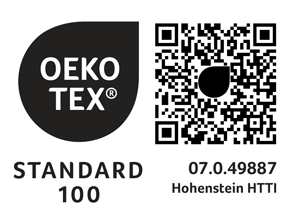 Our flex and flock transfer processes are certified according to OEKO-TEX® STANDARD 100, also all embroidery yarns from our suppliers.
Our textile finishing processes
All sample products shown here are exclusive customizations, not for sale without permission from the copyright holder. Some examples are symbol displays and were not produced in-house.